Product packaging plays a vital role in getting your product noticed. Packaging is your product's first impression on the customer. Designing it well can significantly impact your sales and customer base. But designing isn't the only thing that matters when it comes to packaging. Another important thing would be providing the necessary information. This is where custom hang tags and labels come in.
Custom hang tags are an essential part of the packaging to add everything about your product that the customer may be interested in. These details may include what the product is, instructions for use, warnings, and ingredients(if applicable). All these details improve how the customer perceives your product.
To add this information, you can either use hang tags or custom labels. Which one suits your product better? This article will cover all details about it. So without further ado, let's dive into it.
Custom Hang Tags VS Labels:
Hang tags and labels serve almost the same purpose. But which one suits your needs better? We leave it to you to decide. Here are some pros and cons of both to help you decide on a better option.
Pros Of Custom Hang Tags:
Hang tags add style to your packaging.
They can be used to add additional information that cannot be added to the labels or the packaging.
The customer can easily remove Hang Tags.
Custom Hang Tags can be designed to fit your products.
They can be used for a variety of products.
Cons Of Custom Hang Tags:
It may increase the cost of the packaging.
Hang tags can get in the way and get damaged during shipping or storage.
They are easily removable, and they may get lost during shipping.
These were some pros and cons of hang tags. Now let's see some pros and cons of Custom Stickers and Labels.
They can be used to add the information required by the law.
Labels are easy to apply on any kind of packaging.
They can be designed to match the branding and packaging of your product.
Labels are very cost-effective.
They cannot be easily removed.
Cons Of Packaging Labels:
Labels & stickers are not as visually appealing as hang tags.
They may not provide enough space to add all the important information.
Labels may not be ideal for all kinds of packaging as they may not adhere to some packaging materials.
These are some potential pros and cons of using custom hang tags and labels for your product packaging. If used right, hang tags can help you create the best product packaging.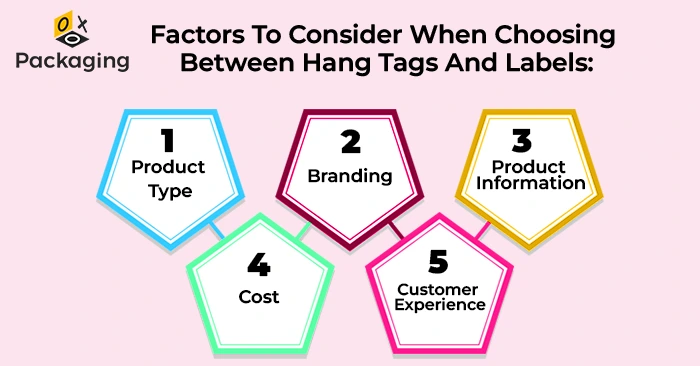 Factors To Consider When Choosing Between Custom Hang Tags And Labels:
Here are some factors to consider when deciding between custom hang tags and labels.
1. Product Type:
Some products may be better suited to hang tags or labels based on their specific features, such as size, shape, and material. For example, if you are packaging a piece of jewelry, using a hang tag might be a better option than a label. This is because you need additional space to add the material used, the designer's name, care instructions, and other branding information for the jewelry item.
On the other hand, if you are packaging a bottle of cleaning solution, using a label might be better. This is because you must prominently display the instructions in a small space. So your choice will depend on the type of product you are packaging.
2. Branding:
You need to consider your branding needs. Custom hang tags might convey a brand's personality effectively, while labels might be great for displaying brand logos. So consider your branding needs when choosing between the two options.
3. Product Information:
Do you want to know what information can be included on a hang tag? Well, it all falls down to the amount of information you need to add. Labels might not be able to provide as much information as hang tags. Consider how much information you need to display and whether it can be printed on a label or if it will require a hang tag. Also, how important is the information? If you only need to print the instructions about the product, you can just add them using a label. Using a hang tag might be a better option if you have a personalized message to the customer.
4. Cost:
Another important factor to consider is the cost. Custom hang tags might be more expensive than labels. Although it may depend on the hang tag size and the material, you use to make them. So consider your budget and decide which option might be better for your product.
5. Customer Experience:
Consider the customer's interaction with the product. This will help you decide which option suits you best. For example, if you have a product that can be reused, using custom hang tags might be the better option. But if you have a product that would be disposed of after use, labels would suffice.
Consider these factors when deciding between hang tags and labels. These will help you come up with a better choice.
What are the Different Types of Hang Tags?
Depending on the material and usage, there are several different types of hang tags. Some common types of custom hang tags include;
These hang tags are made of cardstock and can be used for different purposes. They can be customized in different colors and styles to fit your needs.
Door hangers can be considered as a type of custom hang tags. These tags are usually made of cardboard and can be custom-printed according to your specifications. You can also add your branding to make them visually appealing.
Folded hang tags are an impressive style perfect for most kinds of products. These hang tags can be folded in half to form a small booklet carrying all important details about your brand.
Die-cut hang tags might be excellent if you need a stylish way to present product information. They can be custom-cut into shapes such as a star or a heart. These custom hang tags can improve your product presentation.
These are just a few types of hang tags. There are many more, so check them out and get the one perfect for your brand.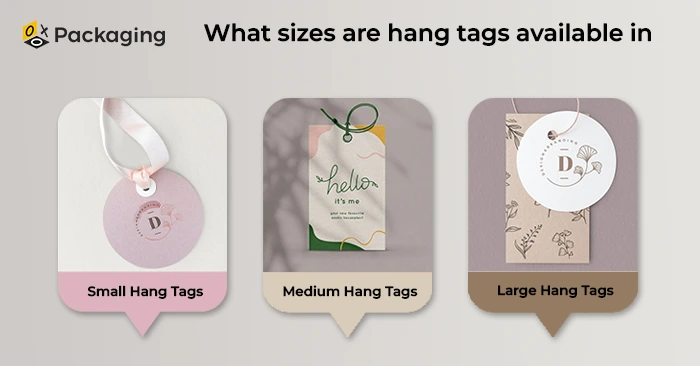 What Sizes are Hang Tags Available in?
Hang tags can be found in any size you want. The size of hang tags may depend on your product type and the amount of information you need to print. You can choose from a range of sizes, including;
These are typically 1 by 2 inches in size or smaller. They are perfect for smaller products such as jewelry and watches.
These tags are usually 2 by 3 inches or 3 by 4 inches in size. They are used for clothing and accessories.
Large tags are typically 4 by 6 inches or larger in size. They are usually used for larger products such as home essentials like furniture.
You can also get custom hang tags based on your specific needs. OXO Packaging can help you out with that. A better idea to get the right size is to measure your product to get the right sized boxes. Check out how to measure box dimensions here.
Can Hang Tags be Customized?
When you work with OXO Packaging, you can customize your hang tags. No matter what customization you require, we can do it for you. With your hang tags, you can customize the size, shape, color, and everything else you want. So you don't have to worry about anything when working with us on your custom hang tags.
Conclusion:
Hang tags and labels are excellent ways to add information and create the best product packaging. You can add instructions for use, brand logo, personalized messages, and more on your hang tags. Also, they are a great way to improve your product presentation. So if you plan to get custom hang tags, OXO Packaging is here to help. Feel free to contact us and let us customize your hang tags.