First impression matters the most when it comes to product packaging. And in this regard, the soap industry is no exception at all. Only the right eco-friendly soap packaging can make a difference. That is why it is vital to use premium packaging for your soaps.

Furthermore, the demand for eco-friendly products and packaging is increasing day by day. Therefore, only premium soap packaging is not enough to attract conscious customers. Whether you are a soap manufacturer or supplier, you need eco-friendly boxes.
In this blog, we will shed light on how to get premium and eco-friendly solutions in single packaging. We will also reveal the benefits of customizing your own boxes. So let's start our topic!
The Importance of Eco-Friendly Soap Packaging
Eco-friendly soap packaging plays a great role in protecting delicate soaps. It also saves them from any external harm. Besides, the packaging protects the original aroma of the soap.

On top of that, the right packaging attracts potential customers. The appealing ecofriendly soap boxes can grab the attention of customers in no time. They also act as free marketing tools, so you don't have to invest in branding.
Additionally, you can share product details on such custom soap packaging. Hence, your customers will find you more reliable and recall you.
What Are the Benefits of Premium Eco-Friendly Packaging for Soaps?
Custom eco-friendly soap boxes act as a game changer to take your brand to the next level. Customizing premium ecofriendly soap boxes is a great idea. It not only helps you to stand out from the crowd but also gives many other benefits. Some of these are as follows.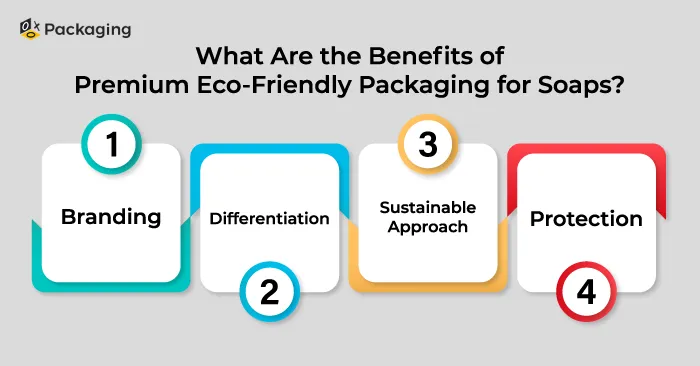 1. Branding
Custom eco-friendly soap packaging boosts your brand identity. With your company's logo, your boxes become the right marketing tools. When more people become familiar with your brand, there are great chances of high sales.

Such boxes also draw the attention of the customers by engaging them. Also, ensure that unique and attractive boxes are the perfect way to win customers' hearts.
2. Differentiation
Eco-friendly soap packaging also differentiates your products from competitors. You can make your products stand out on a retail shelf with unique designs.
Do you know that the design is the essence of your packaging? As previously mentioned, it can make a lot of difference for your products. Such eye-catching designs can set your products apart from the other brands.
3. Sustainable Approach
As awareness about the eco-friendly environment is increasing, the demand for sustainable packaging has increased. Therefore it is crucial to use environment-friendly soap packaging.
And customization allows you to get such materials that don't cause pollution. Thus, customers trust your brand and get your products. Ultimately, it will enable you to grow your business.
4. Protection
When you customize your ecofriendly soap packaging boxes, you need to use the finest material. The premium quality materials protect the soaps from moisture, heat, and light. Thus, it helps you safely send the products to the final destination.
Things To Consider While Customizing Premium Eco-Friendly Packaging
Customizing premium eco-friendly soap packaging is not child's play. But I'm here to help you through the process. All you need to do is, you have to keep the following things in mind while customizing premium ecofriendly soap boxes.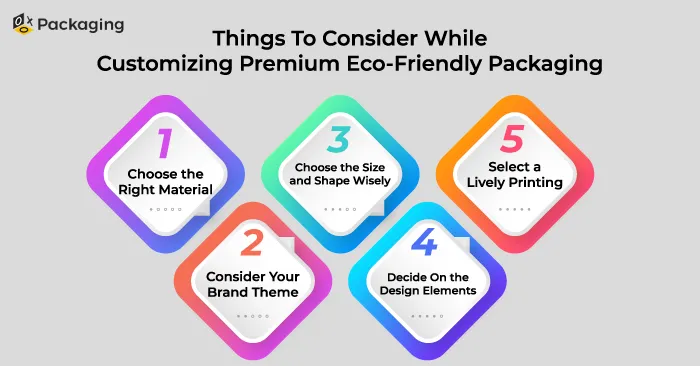 Choose the Right Material
Choosing the right material is crucial for eco-friendly soap packaging. Above all, the material should be eco-friendly. So it doesn't cause pollution to the environment. Only the right material can help you get the targeted audience's trust.
Consider Your Brand Theme
It is important to consider your brand theme while customizing soap packaging boxes. The box design must reflect the unique features of the products. Also, add a brand logo, theme, mission, and story to add value to your packaging.
Choose the Size and Shape Wisely
Make sure that you get the right dimensions for your eco-friendly soap packaging. This can help prevent damage during shipping and handling and improve your customer experience.
Decide On the Design Elements
Choose design elements to help your custom soap packaging stand out on the shelf. This could include a unique texture or finish with the following options.
Embossing
Debossing
Laminations
Gold Foilings
Silver Foilings
Holographic Foilings
All these options give a great look to the overall eco-friendly soap packaging.
Select a Lively Printing
Printing plays a great role in attracting potential customers. It takes no time to win the hearts of customers. Therefore, go for the latest printing techniques, such as
Digital Printing
Offset Printing
All these printing methods allow the finest printing on your custom soap packaging. Also, choose vibrant colors to make your products unique. You can use a single or a combination of colors that match your brand theme or logo.
Where to Buy Premium Eco-friendly Soap Boxes?
Premium quality soap packaging is crucial for your business if you are associated with the soap industry. OXO Packaging is a reliable solution if you are looking for a reliable source to get eco-friendly and superior-quality custom soap packaging.
We are the premium solution for your packaging needs. We manufacture and supply environmental safe soap boxes, which are also eco-friendly. Additionally, you can select any style, design, or size from our catalog. You can also customize your boxes according to your brand theme.
On top of that, we use the latest printing options. You can also select amazing add-ons such as embossing, debossing, and foilings.
Above all, our chat support team is always ready to listen to you. You can contact us immediately in case of any confusion. Besides soap boxes, we also customize cosmetic boxes. So place your order to get premium-quality packaging boxes at affordable prices.
Frequently Asked Questions
Can I customize biodegradable soap boxes?
Yes, you can customize eco soap boxes according to your business needs. We offer unlimited customization options to facilitate our customers.
What materials are ecofriendly soap boxes typically made from?
Eco-friendly soap boxes are usually made of Kraft, Corrugated, Rigid, and Cardboard materials. All these materials are durable and easily recyclable.
How much do customize soap boxes typically cost?
The cost of the environmental friendly soap boxes usually varies depending on the type of materials, printing, and designs. But we offer custom soap boxes at affordable prices.
What sizes are eco-friendly soap boxes available in?
Eco-friendly soap boxes are available in different sizes, starting from the standard size 2" x 3" x 1.125". Moreover, you can also customize boxes of any size according to your needs.