As a writer, I feel pretty excited whenever a new packaging style is introduced in the market. I just can't resist my hands. So today, while I was watching an instructive video on designing a cat house, a thought popped up in my mind. 'Why not write something instructive about packaging?' The idea was not ready to take off and as I wrestle with it, I felt submissive. So here I am bringing for you a descriptive guide on How to Make Pillow Boxes!
First of all, it is a step-by-step guide. Designing a box is not a piece of cake. We all know that people perceive the quality of the product from its packaging. Therefore, a packaging box needs to be custom designed, professionally printed, and carefully encase the product.
Talking about the pillow packaging style, I must say that these boxes have superseded all other styles. The funny thing is that sometimes people confuse pillow packaging boxes as packaging for pillows. ha.ha. The reason these boxes are termed 'pillow' boxes is that they look like pillows with inwardly curved sides.
So the first step in making pillow boxes is to make it clear what kind of product you will encase in them.
1. Pore Over the Product
The first step in making pillow boxes is the examination of one's product. Custom pillow packaging is a unique style. Sometimes a product is not compatible with such packaging. For example, you cannot place a two-point cake in it owing to its delicacy and nature. Similarly, pillow packaging is not the best option for packing water bottles and drinks.
It is therefore essential that one must pore over the product before deciding to move ahead with pillow-style packaging. If you are a manufacturer and supplier of any of the below-mentioned product categories then the bespoke pillow boxes are the best pick for you.
Small cosmetics
Jewelry
Soaps and detergents
Makeup products
Hair extensions
Small retail products
2. Material Selection
The second step is to pick the material. Custom boxes are popular because of their eco-friendly aspects. It is essentially the material that makes custom boxes nature-friendly. Besides being eco-friendly the material also plays an integral role in quality printing, shaping the box, and making it visually aesthetic. Two material options that are ideally perfect for making pillow boxes.
Kraft is a tough material. It is naturally brown in color offering limited room for color printing. But that does not mean that you cannot print much on Kraft's surface. This material can be used for small and large products. Small grocery products, jewelry items, and cosmetic products are well encased in Pillow Kraft Boxes.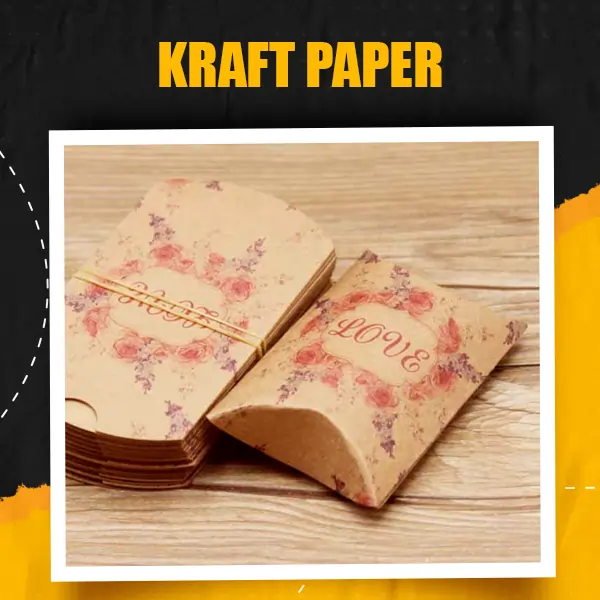 The surface of the cardboard is smooth. You can print pretty much every style, design, and illustration on it. The essence of popular CMYK colors can be well exhibited on cardboard. It is tough.
The tensile and tear resistance capacity of cardboard is incredible. Therefore, cardboard is the ideal material for making customized pillow boxes with maximum printing, lamination, and design.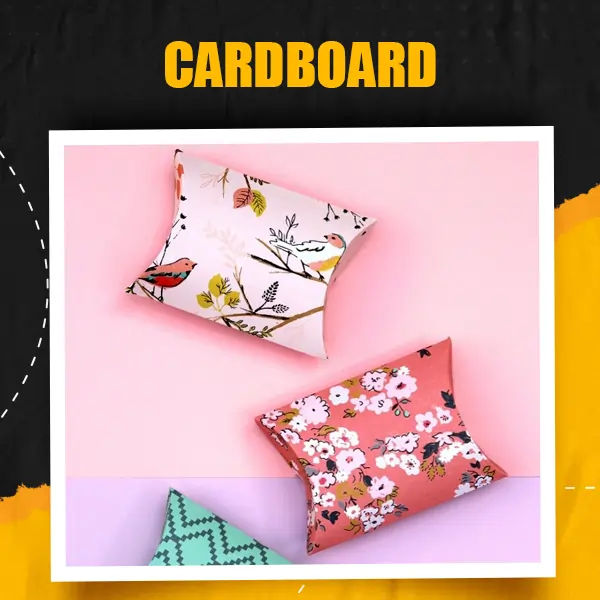 3. Personalized Designing
Designing a pillow box is really fun. It's like a non-stop rollercoaster as the options are countless. In addition, it is not only the style that takes a lot of the designing time. Eventually, it is the custom designing that is the real magic.
Style Designing
Pillow-style packaging is not hard to design. The design has curved bending from both sides. The curves can be opened from the tuck ends. Once the curve is flipped, the thumb notch appears, pulling which you can open the box. But this is the most simplistic design of all pillow boxes. There is much more to this design than one can surmise.
Pillow Boxes with Handle
When talking about designs, the Pillow Boxes with Handles are the top pick of Americans. These boxes make it easy to carry a product. There are handles at the top that are also cardboard and Kraft-made. You can pick this box for a product if it needs to be hand carried across a distance.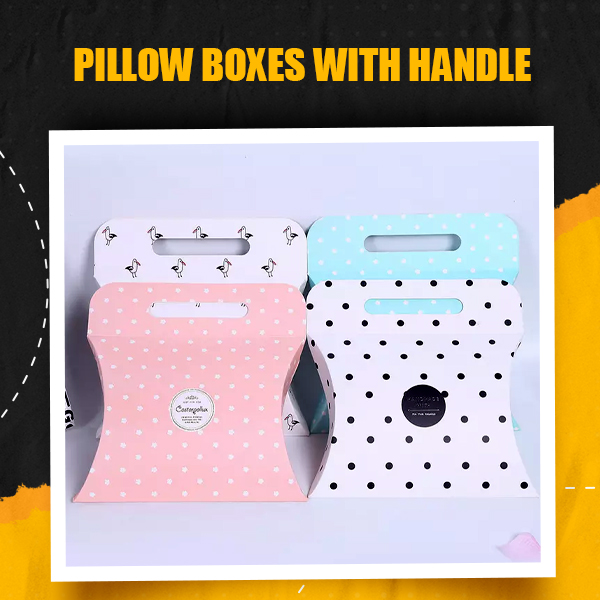 Pillow Boxes with Window
Another prominent style in pillow packaging is the window-mounted style. In such boxes, you can have the see-through PVC transparent window at the front which assists customers in seeing your product.
Window-style pillow boxes have remarkably taken over the hypercompetitive packaging market. These boxes reduce the need to open the packaging and see the product as the window at the front will do that for you.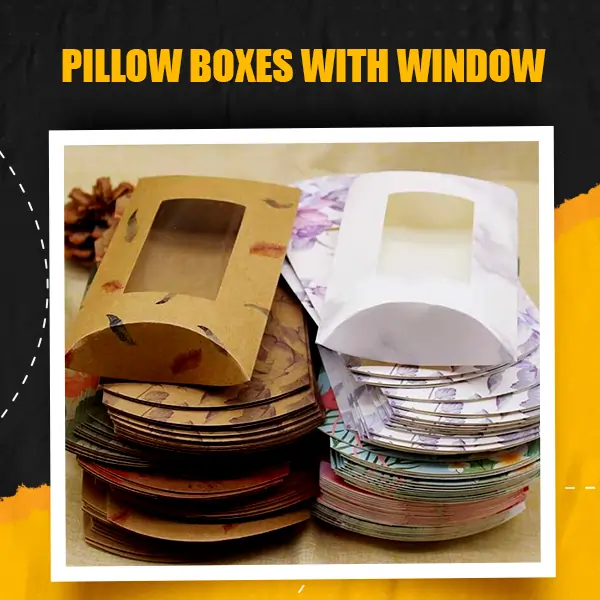 Custom Gift Pillow Boxes
Gift Pillow Boxes are a rather unique category. A gift pillow box can be personalized in various ways. You can add ribbon on these boxes and carry the product using ribbon instead of a proper handle. You can also have the foldable pillow-style boxes in the gift category.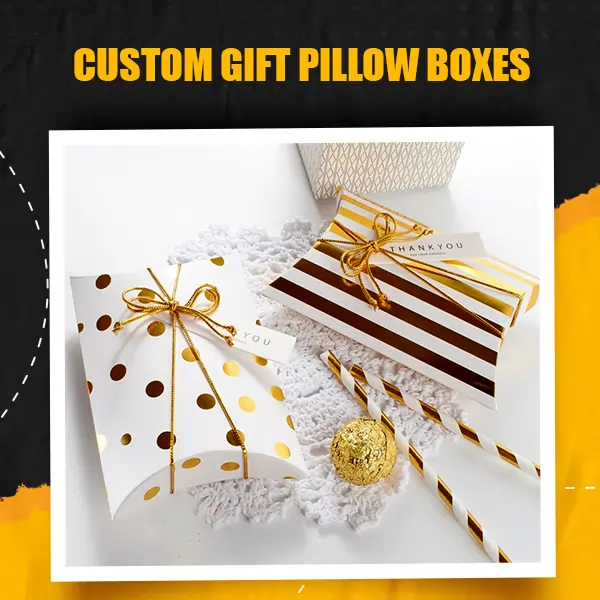 4. The Printing Stage
After the material selection, the printing stage begins. When the packaging style is as fancy as pillow boxes, it is ultimately the printing that pays it all off.
People love custom printing on pillow packaging. It differentiates their products from the rest. So what are the options in custom printing? Well, there are numerous technologies that assist in quality printing. See the below-mentioned list.
Offset Printing
Digital Printing
Screen Printing
Flexography
Holographic Printing
Pillow Boxes can be printed aesthetically using digital and offset printing methods. Even though both are unique in their own terms, digital printing is preferred owing to the numerous coloring options it offers. You can print every type of color, illustration, design, and above all your brand logo with these printing options.
5. Finishing with Luxury Add-ons
We are almost done now. The printing is finished. We chose the material and design precisely that we wanted to print. Now, as a finishing touch, why not add some premium add-ons?
Add-ons refer to the decorative and beautifying elements that we add to a box. They enhance the aesthetics of the packaging surface. Companies usually use add-ons on their product packaging to make precise information, design, or logo prominent.
Among these add-ons, the notable ones are the gloss and matte lamination, pillow boxes with inserts, and gold and holographic foiling. Add-ons, glitters and rest are also used but lamination is something that people always ask for at first.
Hope you enjoyed reading this quick guide on how to make pillow boxes. Hope you now have a clear understanding of how pillow boxes are manufactured starting from scratch. See you soon with something exciting to write about. Till then, Bye Bye.