Offset printing is a widely used printing technique famous across most industries. The popularity of offset printing is because of the high-quality results it can produce. In addition, offset printing helps to add value to printing, packaging, and publications.
With all its fame, offset printing is the perfect fit for any printing project because of its features and benefits. If you have a printing project, you might be looking for the best technique. If you are considering offset printing, you are on the right track.
In this article, we will explain the process of offset printing and whether or not it is the right choice for you. But first, let's see what offset printing is.
What Is Offset Printing?
Offset Printing (also known as "Offset Lithography") is a printing technique in which the inked image is transferred (offset) from a plate to a rubber blanket (rollers) and then to the printing surface.
Offset printing employs the repulsion of oil and water technique of lithography in which an inked image is applied on the printing surface by the ink roller. In contrast, a water roller applies a water-based film on the non-printing areas of the surface. This process makes it possible for offset printing to produce high-quality graphic results.
It is used in places where mass production is required. These include printing large quantities of newspapers, books, brochures, stationery, and Custom Packaging Boxes. Because of its high-quality output, offset printing is the most widely used printing technique across many industries.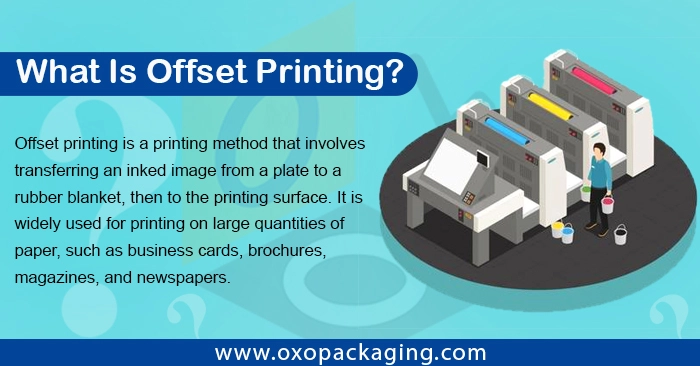 Types Of Offset Printing:
There are two types of offset printing machines that are used these days. These are sheet-fed offset printing and web offset printing. Let's check out the details for both.
Sheet Fed Offset Printing:

In sheet-fed offset printing, sheets of paper are individually fed to the machine. These pages of paper can be cut to the publication size before feeding to the machine or trimmed afterward.

Sheet-fed offset printing machines are used for smaller quantities where you don't have to follow a strict deadline. It might be slower than the web offset printing machine, but it is still faster than most other printing techniques.

Modern-day sheet-fed offset printing machines can print 12,000 to 24,000 sheets per hour. With modernization, we hope to see an advancement in printing speed for sheet-fed offset machines.



Web Fed Offset Printing:

Web-fed offset printing is used by most industries where time is of the essence, and you need the job done faster. Web offset printing machines are mostly used for newspaper and custom box manufacturing.

In web-fed offset printing, paper rolls are fed continuously to the machine. Once the printing process is complete, the paper is cut to create identical sheets. The machine itself does this. You can use web-fed offset machines to produce over 5000 printing materials.

Web-fed offset printing machines are used for the quick completion of projects. A web-fed offset printing press can produce up to 3,000 papers a minute, bringing us to 80,000 printed sheets an hour. This means you can get larger quantities faster, whatever job you use a web-fed offset printing machine for. This is why we at OXO Packaging, like many other printing companies, use these machines.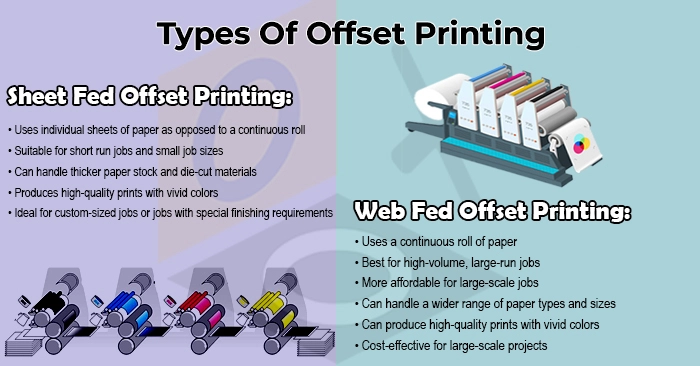 Let's Understand the Process of Offset Printing
The offset printing process comprises two different phases. The first one is the pre-press process, and then we move on to the printing process. So let's check them out in detail.
The Pre-Press Process - Preparation of the Artwork:
The pre-press process includes the preparation of the artwork before printing. This process ensures that the output is exactly according to the input. In the preparation process, you must ensure that the chosen colors are in the right format. The common mistake that most designers make is not converting RGB colors to CMYK. This can affect the output result.
Offset printing machines use CMYK to make your output colors. They are precise and will produce perfect results. But using an RGB design can cause issues with your output.
Work with a packaging professional to ensure your pre-press process goes smoothly. Experts at OXO Packaging can guide you through the complete process.
Now let's move on to the printing process.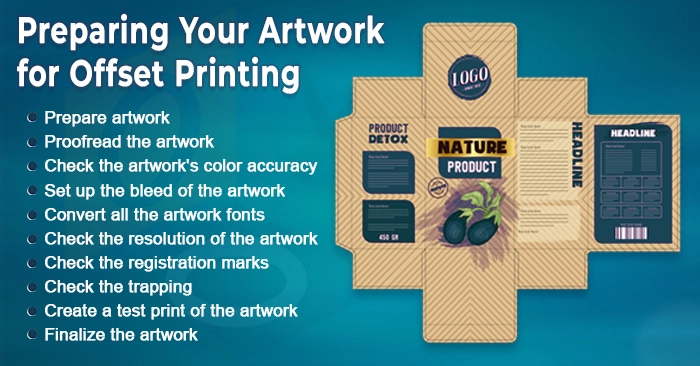 Offset Printing Process:
Here is the process of offset printing. Let's check it out step by step.
Layering Everything On The Plate:

The first step is layering. This step involves layering images, text, or graphics to a plate in rapid succession. A metallic plate is often used for the job, although paper or polyester may also be used.


Transferring to the Roller:

In the second step, the plate is transferred to a rubber blanket(also called a "roller" or "cylinder"). Finally, the rubber roller is used for the main event, i.e., Offset Printing. If both sides of the paper need to be printed, two rollers may be used for the job.


Final Result:

In the final step, the roller feeds the paper into the press for printing. Finally, the rubber cylinder, containing the ink for your artwork, stamps the design onto the paper. This stamping creates a high-quality color output.
This is the complete process of offset printing. Another phase may be involved in the offset printing process: quality assurance. We at OXO Packaging do a complete QA as soon as the output comes out of the press to ensure each individual Custom Printed Box meets your requirements. Only then the printing process is complete.
Benefits of Offset Printing:
Here are a few excellent benefits of offset printing for your business. Let's check them out.
High-Quality Printing:

Offset printing is the best way to get high-quality prints. It can print high-quality, detailed images with a wide range of colors. So you always get your output in true colors. You don't have to worry about color when working with offset printers.


Long Runs:

Offset printing is excellent for printing large volumes of prints promptly. It can easily take on jobs that require hundreds of thousands of prints. This feature of offset printing makes it ideal for large businesses, publishers, and magazines.


Cost Effective:

Offset printing is a cost-effective method to print larger volumes fast. The initial setup cost may be more than other printing methods, but it is worth it in the long run. The cost per piece you get is relatively lower than other printing methods.


Flexible:

Offset printing is very flexible and versatile. It can print on a variety of materials, including paper, vinyl, plastic, and more. This makes it the perfect fit for various industries.


Quick Turnaround:

Offset printing helps you deliver the job on time. It is a fast printing process that allows you to offer a quick turnaround to your customers.
These are some fantastic benefits of an offset printing machine which is why many companies, including OXO Packaging, use it for their business.
Conclusion:
Offset printing is the best technique if you want a big print job done quickly with the highest quality results. We have explained the complete offset printing process to help you understand how it works and its benefits. If you still have any questions, we are here to answer them. So contact us now in case of any queries, and we will help you.